b+m surface systems GmbH: Digital Factory
b+m Surface Systems relies on the digital factory
b+m surface systems GmbH is a manufacturer of painting plants and paint application systems for surfaces, and offers customized solutions for almost all requirements. Most customers of this medium-sized, internationally active company are from the automotive and automotive supply industry, but also manufacturers of commercial vehicles, agricultural machines and rail vehicles are using painting plant solutions by b+m.
Due to rising complexity in customer processes and shortening project cycle times, b+m decided to rely on the digital factory to gain substantial increases in planning quality and to reduce follow-up costs.
In collaboration with SimPlan, the simulation tool Plant Simulation was evaluated and introduced. B+m's aim was to implement discrete, event-oriented simulation step-by-step along the company's entire supply chain, from the initial planning phase through detailed planning and commissioning up until b+m's consulting phase with its end customers during operation of their facility.
Material flow simulation in rough planning and the sales process
At the preliminary phase of the project, material flow simulation was used to support the early planning phases of painting plants for vehicle fixtures. For this, the current planning stage was modeled in order to be able to recognize any weaknesses early on and to modify the layout accordingly. Since the software Plant Simulation is also well suited for animating material flows, the model now offered b+m an effective tool in the communication with their customers that helped to present and discuss solutions.
Use of the simulation model during project phase
At the later stages of the project, the rough planning model was refined gradually by b+m and SimPlan. Various "stress tests" were done regularly on the basis of the most recent planning state. Here the simulation model was set up in such detail that control variants could be tested taking into account the acceleration and deceleration behavior of the conveyor technology elements. The goal was to visualize the future facility accurately, including fluctuations and interferences. The insights gained hereby formed the basis for the implementation of the real control logic in the simulation model and also was used to support the commissioning of the facility.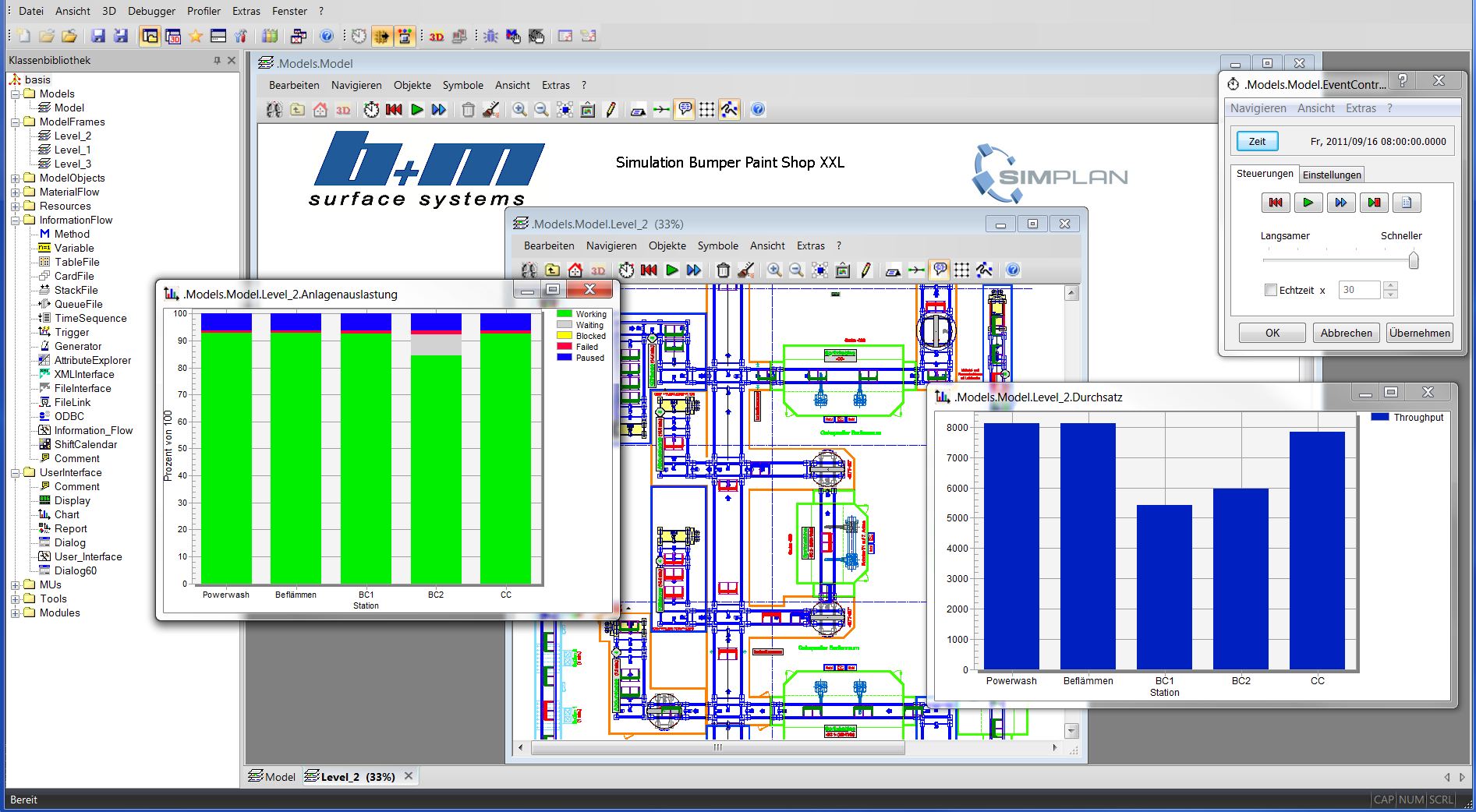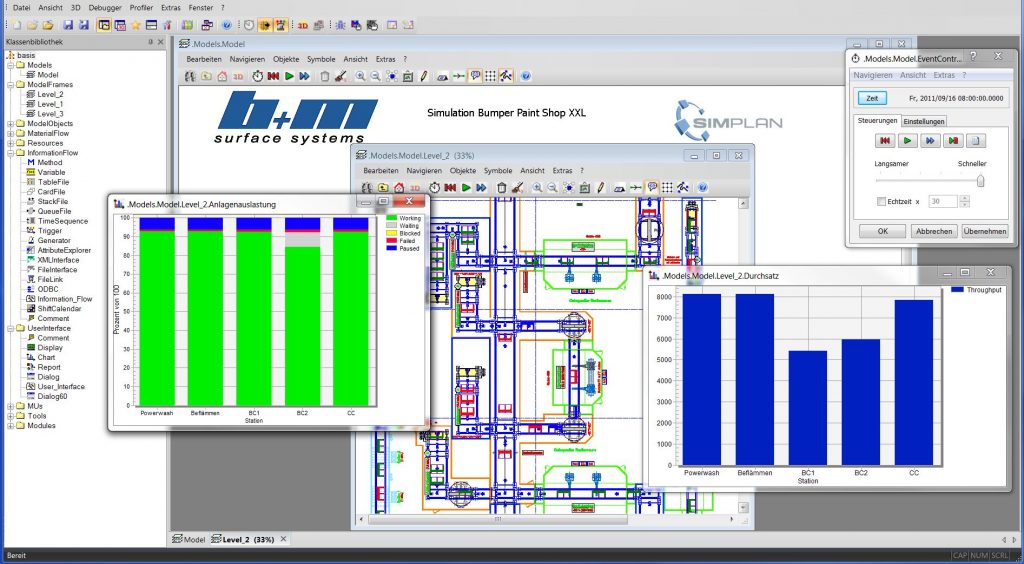 Vision digital factory
"With Plant Simulation, we can safeguard customer projects already during the project planning phase and thereby achieve a higher planning quality," said Sebastian Merz, managing partner of b+m surface systems GmbH. He added: "SimPlan has supported us from the beginning on. During the implementation of Plant Simulation, our employees were trained using real, existing projects and so were able to learn how to use the new software in a quick and practice-focused way."