CLASS Warehouse and Simulation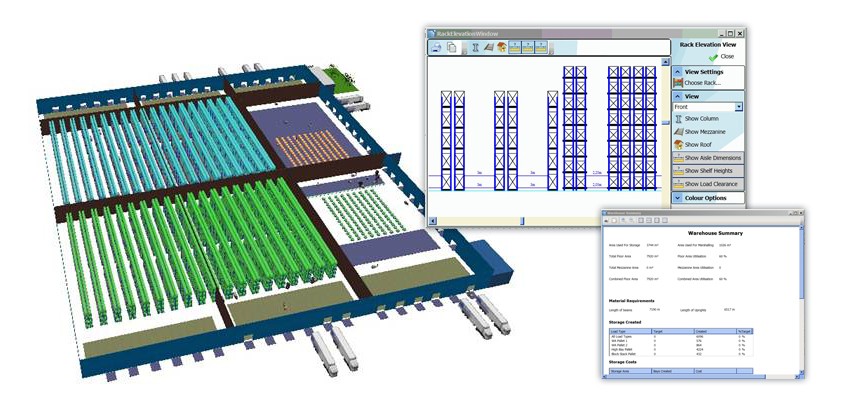 SimPlan's software portfolio is expanding: the new tool is CLASS Warehouse and Simulation, developed by British company CIRRUS Logistics. CLASS is a software tool for planning and simulating manual storage systems. The narrow focus on this field makes it possible to quickly learn the basics of simulation, even for non-experts. Processes that are common in manual storage systems are already pre-defined and only have to be parameterized and adapted to the individual system.
Application in warehouse planning
The planning environment of CLASS is used to design 3D warehouse layouts. On the available plot size, buildings and storage areas are developed, based on CLASS building blocks of building shells, truck docks, floors, storage systems, etc.
Various values (number of parking spaces, land use, etc), images and the 3D model are available as planning results. Planning is rounded off with the creation of dynamic videos of the warehousing site.
Application in simulation
The simulation environment of CLASS allows the analysis and optimisation of storage processes. Typical questions that CLASS simulation models can answer are for example:
Is the number of truck docks sufficient for the delivery and removal of goods?
Will the target warehouse performance be achieved (storing, stock removal, order picking)?
How many industrial trucks and employees are necessary?
Is the warehouse layout suitable for the intended use?
What are the system's limits and where are possible bottlenecks?
Which order picking and replenishment strategies are suitable?
The software tool CLASS has been on the market for 15 years and is constantly being optimized and developed. SimPlan AG acts as a sales partner for the German-speaking region and offers consulting, workshops and support in addition to the software.