SimPlan is active in research projects and at universities
The contact to universities and research institutes plays a major role for SimPlan. Several of our employees are working as lecturers at Universities to pass on their practical knowledge about simulation.
SimPlan has participated in the following projects as a research partner or project leader. If you need more information about any of the research projects, please do not hesitate to contact us. We are happy to help.
Current Research Projects
Current Research Cooperations
Completed Research Projects
Innovative through Research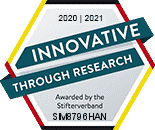 The Donors' Association for the Promotion of Humanities and Sciences in Germany (Stifterverband für die Deutsche Wissenschaft) has awarded our research activities the quality seal "Innovative through research".