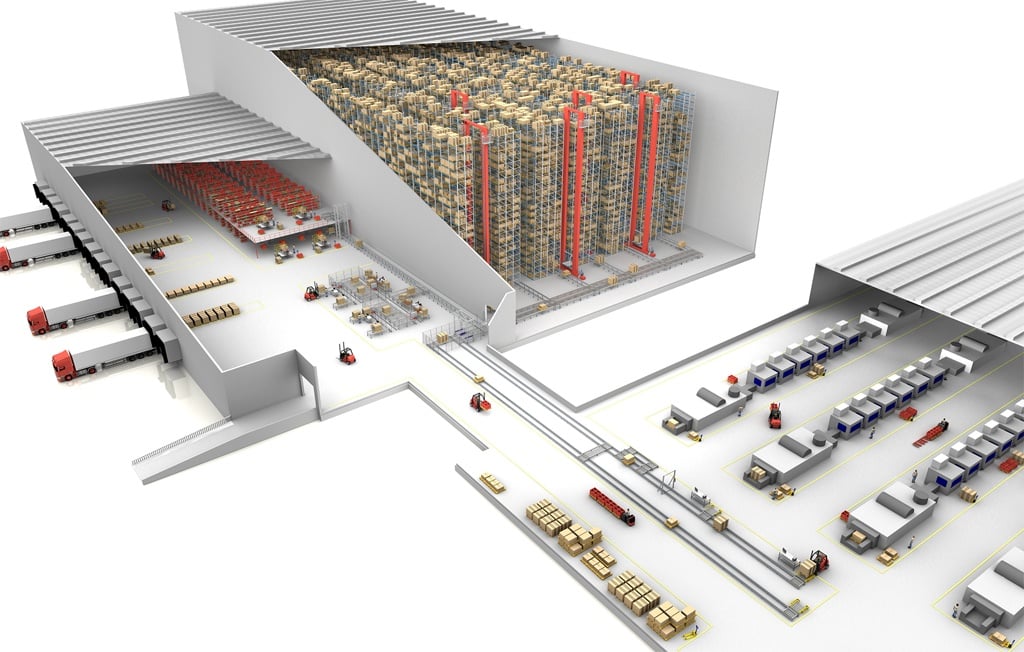 Emulate3D – advanced engineering tools
Application/ Benefit
Demo3D provides a user-friendly and interactive virtual reality environment for the animation of production and logistics facilities.
With Demo3D, all movements and material flows can be represented truthfully. Taking into account physical properties such as gravity, friction, mass inertia etc., it facilitates a true-to-life representation of reality. Furthermore the user can decide himself whether he would like to represent plants in technical detail right through to photoelectric relay and propulsion level or whether he would prefer to move on a more abstract level.
Thereby modelling of the following elements is particularly supported:
Conveyor technology (continuous conveyors and discontinuous conveyors)
Warehouse technology (automatic high rack warehouses, manual warehouses)
Sorters (sliding sorters, tilt-tray sorters)
Floor conveyors (fork-lift trucks, driverless transport systems)
Production machines (robots, milling machines, turning machines)
Machine operators (processing, transport, order picking)
Structure / Modules
The development of animation models is carried out with the aid of predefined elements from so-called catalogues. The animated plant can then be walked or flown through from all angles. Furthermore videos can be produced from any desired camera angle.
Demo3D Editions
In order to meet the requirements of different application areas and user groups, there are two Editions of Demo3D that built on one another. These are:
Demo3D Professional: The Demo3D professional licence allows the use of all available standard catalogues. Apart from that, the user may create their own catalogues as well as import and export a wide variety of 3D CAD formats. The visual process description logic "QuickLogic" is available for designing special functions.
Demo3D Enterprise: Expands on the professional licence and, on top of its functionalities, allows scripts based on JScript and C#. This enables the user to develop new building blocks with specific functions, to customise the Demo3D GUI, to incorporate dialogues and DLLs or to implement an automatic model generation.
Integration / Interfaces
Exporting to the simulation software AutoMod is possible.
The Professional and Enterprise editions facilitate inputting 3D-objects in the formats DXF, 3DS, STL, OBJ. The then generated animation model can be exported as DXF.
Manufacturers / Supplier
SimPlan has worked closely with Emulate3D by Rockwell Automation for over fifteen years, and during that time they have successfully undertaken countless consulting projects, trained and supported hundreds of users, and helped many companies save significant time and money in the commissioning of automation projects. Their experience is available to you to help plan your project and ensure your success.
In addition to the simulation software, support contracts can be arranged and appropriate simulation services can be booked.