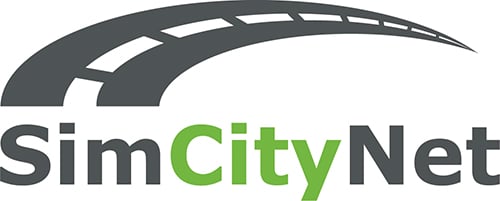 SimCityNet: Research project on potentials of alternative vehicle drives in traffic with HSB, HIS and HWG
Two-year research project launched
Innovative cooperation project between Hanau-based company and Frankfurt-UAS to be funded
Creation of a digital twin of the Hanau road network for long-term strategic planning of the traffic of municipal companies
Hanau, 27 August 2019 – Hanauer Straßenbahn (HSB), Hanau Infrastruktur Service (HIS) and Hanau Wirtschaftsförderung GmbH (HWG) have launched a two-year research project entitled "SimCityNet" under the consortium leadership of SimPlan AG, a simulation service provider based in Hanau, with scientific support from the Frankfurt University of Applied Sciences (Frankfurt UAS). The aim is to create a "digital twin" of the Hanau road network that can be used to simulate the potential of vehicles with alternative drives in local public transport and municipal waste disposal facilities. Hanaus Lord Mayor Claus Kaminsky sees "SimCityNet" as an excellent tool for making future developments visible today.
With "Zukunft Hanau", the city has initiated a process in which it is discussing in dialogue with citizens "in which city we want to live in 20 years and what we can and must do today to achieve this," said the Mayor. In this respect it is a "lucky coincidence" that Hanau has had SimPlan AG within its walls since 2017, a company that specialises in services and software for improving processes in production, logistics and transport, above all with the help of simulation models and digital twins.
Dr. Sven Spieckermann, co-founder and CEO of SimPlan AG, said in his own words that he was pleased "that as a Hanau-based company we were able to win two companies from the city as partners for such an innovative research project". The scientific accompaniment by the Frankfurt UAS guarantees "that we are at the cutting edge of technology". It is to be hoped that "in the future further municipalities will profit from our findings".
The research activities in the field of traffic planning and logistics will be bundled at Frankfurt UAS in the "Research Lab for Urban Transport (ReLUT)". The scientists involved have strong competences in the fields of urban commercial delivery traffic and public transport.
The project aims to develop a digital twin of HSB's vehicle operation and HIS's vehicle deployment planning in order to investigate and evaluate different operational scenarios. The tool can be used by traffic planners and dispatchers of municipal companies.
Die HSB plant konkret mit Hilfe des digitalen Zwillings die Einsatzmöglichkeiten alternativ angetriebener Busse im Liniennetz zu untersuchen. Im Fokus stehen die Reichweite der Busse im Abgleich mit den täglich zurückzulegenden Leistungskilometern sowie das Erfordernis und die Verortung entsprechender Ladeinfrastruktur. Während die Linienwege weitestgehend vorgegeben sind, könnten die Leerfahrten mit Hilfe des neuen Systems flexibler gehandhabt werden, um Routen und Leerkilometer zu verringern und so einen Beitrag zur Kohlendioxidminderung zu leisten.
Der städtische Eigenbetrieb HIS sieht vor, den digitalen Zwilling zukünftig bei der Tourenplanung in der Abfallwirtschaft und bei der Straßenreinigung einzusetzen. Er soll zudem helfen vor Investitionen in alternativ angetriebene Fahrzeuge die Einsatzmöglichkeiten und Auswirkungen auf den Betrieb besser abschätzen zu können. Darüber hinaus ist geplant, in Abstimmung mit Logistikdienstleistern die Infrastruktur speziell für die Zustellung auf der letzten Meile mit innovativen Konzepten zu simulieren und hierdurch zu praktikablen Lösungen zu kommen.
With the help of the digital twin, HSB plans to investigate the application possibilities of alternatively powered buses in the route network. The focus is on the range of the buses in comparison with the daily mileage as well as the requirement and location of the corresponding charging infrastructure. While the routes are largely predefined, the new system could make empty journeys more flexible in order to reduce routes and empty kilometres and thus make a contribution to reducing carbon dioxide emissions.
HIS, the municipal owned company, plans to use the digital twin in future for route planning in waste management and street cleaning. It should also help to better assess the possible uses and effects on operation before investing in alternative powered vehicles. In addition, it is planned, in coordination with logistics service providers, to simulate the infrastructure specifically for delivery over the last mile with innovative concepts and thereby arrive at practicable solutions.
Hanaus City Councillor Thomas Morlock, responsible for both HIS and HSB, sees the following advantage in the project: "With the help of the digital twin, it will be possible for us in the future to examine our ideas at a very early stage for their feasibility and their effects and thus avoid bad investments. HSB Managing Director Thomas Schulte says: "Based on the findings of our tests with electric buses on one line at a time, the use of several vehicles on different lines and the necessary charging infrastructure can be simulated".
HIS operations manager Markus Henrich is particularly concerned about one aspect: "In Hanau, around 6,700 parcels are currently delivered every day, and during the pre-Christmas period the volume increases fourfold to around 27,000 parcels. A further increase is foreseeable and "a management of the logistics flows is absolutely necessary". Here it is just as important to dovetail with other traffic and to place distribution centres in urban traffic as it is to use freight bikes and electric vehicles for the last mile.
Prof. Dr. Josef Becker from the Frankfurt University of Applied Sciences and in the ReLUT team responsible for rail transport and public transport embeds the Hanau project in the overall context of the German climate goals: Greenhouse gas emissions should be reduced by 40 percent by 2020 compared with 1990 levels. There is great potential in the transport sector and especially in the electrification of vehicle drives. It would be far more difficult than testing individual vehicles to assess the impact of a comprehensive switch from diesel buses to those with alternative drive systems for larger parts or even the entire fleet of a transport company. "While the urgent question of emission savings can still be answered with conventional methods, questions of operational operation have so far largely remained unanswered. With the twin, we want to close this knowledge gap," says Becker.