Kennametal Extrude Hone optimises the construction of a spreading cathode using finite element analysis
Simulation projects do not necessarily have to be large and time-consuming studies. At times it is possible to offer clients solutions that can be developed within a few hours. For example, over a short period of time induSim GmbH – a company of the SimPlan Group – tested the loads that occur during deburring for a subsidiary of the Kennametal Group and was able to contribute to improving the material processing.
Kennametal is a leading global company in the fields of metalworking and the development of wear components.  The division of Kennametal Extrude Hone, with its head office in Erkheim near Memmingen, develops solutions for deburring and polishing surfaces for the most varied materials among other things.
An electrolytic deburring device uses a special spreading cathode. It is employed in fast moving tools and expands  increasingly as the number of revolutions rises.
To ensure that the cathode always reliably has contact at the correct number of revolutions, the material must never be overloaded – the cathode must be designed to have fatigue strength.
induSim – which specialises in mechanical calculations and virtual product development – was commissioned to test the loads that occur and to provide suggestions for improvements if necessary. To this end Kennametal used the CAD system Solidworks. The calculations were carried out as nonlinear studies using the calculation tool in Solidworks Simulation.
Initial results have shown an overload of the material in the rounded edges between the spreading base parts. In order to transfer the stresses more evenly to the material, the suggestion was proposed to the customer to enlarge the roundings and to offset the clearance hole for the anti-twist device.
The stress curve is significantly more favourable at almost the same physical properties of the spreading cathode.
However, provisions must be made to ensure that the required spreading force does not  change considerably. To this end the appropriate comparative calculations were carried out, which proved true in practice at a later stage.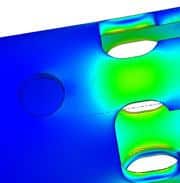 Fig. 1: networked spreading cathode with the original geometry
Fig. 2: Stresses in the loaded original geometric form
Fig. 3: Stresses in the modified geometric form