Emulate3D at LogiMAT 2019 – SimPlan presents digital twin for logistics
SimPlan, Germany's leading service provider and software distributor in the field of simulation, will present Emulate3D for SAP EWM/MFS, the cross-vendor digital twin for logistics systems controlled with SAP EWM, for the first time at LogiMAT 2019 in Stuttgart (Hall 8 Stand B06). "In general, Emulate3D is suitable for various simulation tasks along a plant engineering project," says Dr. Sven Spieckermann, CEO of SimPlan AG, describing the areas of application for Emulate3D. "For example, for the performance evaluation of logistical plant concepts in the project planning phase and subsequently for the virtual commissioning of subordinate and superordinate control systems."
With Emulate3D for SAP EWM/MFS, a standardized and powerful solution for the pre-commissioning of SAP EWM implementations is now available for the first time. This is done independently of the real control technology and mechanics in the digital twin and thus allows the execution of extensive functional tests in advance of the real commissioning. This also includes the reaction to various error cases such as read errors or 'tray full'.
This leads to a significantly improved quality level of the software at the start of commissioning on site, increases transparency in the software development process, reduces delays and leads to a faster start-up of the plant. Overall costs are reduced because costly time on site is eliminated and no physical material needs to be moved for virtual testing.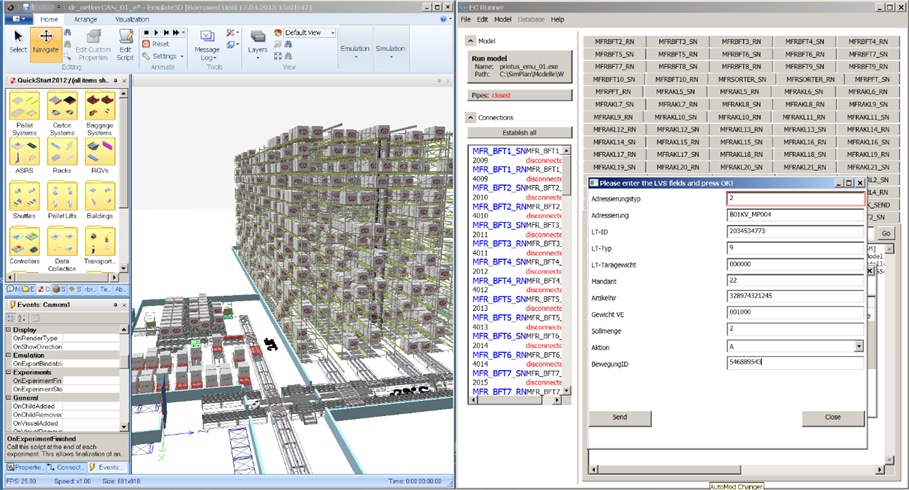 In addition, digital twins based on Emulate3D for SAP EWM/MFS allow in-service testing to be performed at any time, avoiding costly plant shutdowns and backporting if necessary. In addition, new employees can be trained virtually, independently of the real plant, thus avoiding the risk of operating errors.
"The technology becomes inevitable in the case of replacements during ongoing operations, such as the conversion of SAP WM implementations to SAP EWM – after all, WM support ends in 2025," emphasizes Dr. Sven Spieckermann. "We look forward to presenting Emulate3D in person to interested parties at LogiMAT."
You can find SimPlan in Hall 8 Booth B06.
Sign up now for an appointment with our simulation experts and get a free admission voucher!