Simulation of Distribution Centre for Klingspor AG
Klingspor AG's success is based on a portfolio of more than 50.000 products, ranging from high quantities of fast movers to customer-specific individual articles for industrial grinding applications. The company puts special emphasis on the safety of its products, which it produces to internationally consistent quality standards. The central focus is on smooth processes, in order to guarantee availability and short delivery times.
Therefore, in 2014 Klingspor commissioned SSI Schäfer with planning and buliding a new distribution centre located at the Klingspor headquarter in Haiger (Hessen, Germany). To safeguard against design and engineering risks, a simulation study for the project was carried out by SimPlan AG.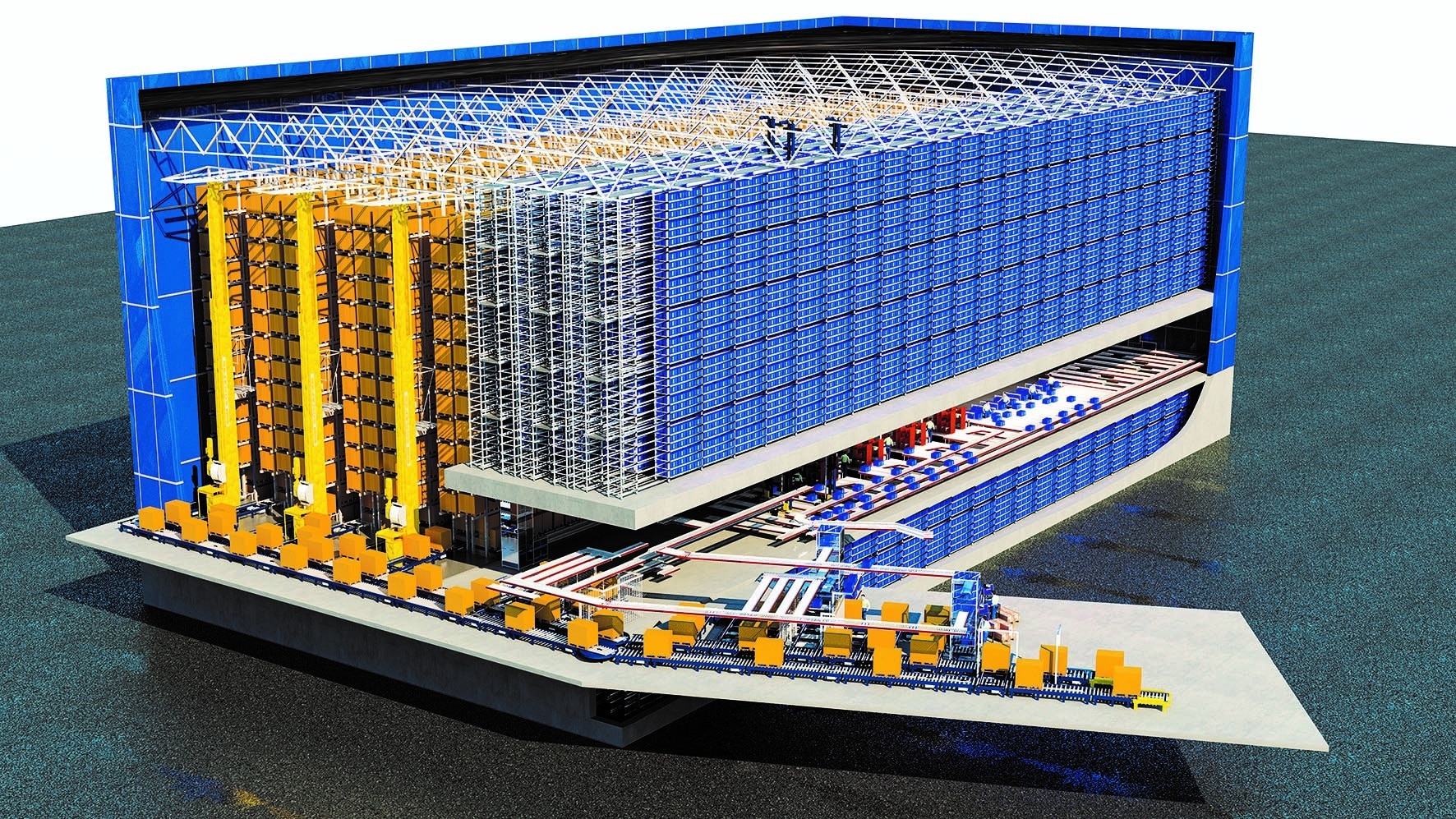 Picture by SSI Schäfer
The distribution centre by SSI Schäfer consists of a high-bay warehouse for pallets with approx. 13.000 storage locations, as well as a shuttle warehouse with approx. 36.000 storage locations. Connecting these two warehouses is an intermediate picking and packing zone. The facility is connected via conveyor technology including plc-control to the picking area as well as the receiving and shipping area. On the other side of the building, Navette-vehicles and Navette-lifters operate the shuttle warehouse. It is also connected with multi order stations and parking lots via conveyor systems. Warehouse management will use SAP EMW (Extended Warehouse Management) and will also be implemented by SSI Schäfer.
In this project, simulation was used to cover design and engineering risks: the concept was simulated to study its performance in various scenarios and at the same time analyse and optimize processes and parameters.
To achieve this, the simulation model not only contains a detailed depiction of the entire storage and conveying technology, it also includes a dynamic, rule-based disposition with numerous customized processes, inventory and warehouse management for both warehouse parts, control algorithms for the Navette-shuttles, sequencing as well as modeling of processes at the workstations, replenishment processes and empty container loops.
During the three months in which the project was realized by SimPlan, the following points have emerged as the biggest challenges:
The set of rules for the dynamic disposition ("what order will be picked when and where under which circumstances?) due to the highly flexible nature of the facility: material numbers can be provided in both warehouse parts and can also be picked in various parts.
The navigation of the different material flows in the container area, allowing for restrictions like shuttle controls and sequencing.
In workshops with all project partners, the extensive integrated statistics were evaluated and thereby possible problems could be spotted and solutions found, so that the previously defined key-figures could be realized after only very few optimization iterations.
In this process it has yet again become apparent that a suitably designed animation is very useful for the joint evaluation of the individual technical processes, and also generally as a foundation for a consistent communication of all project partners.
The implementation phase started at the end of the year 2014, commissioning is planned for 2016.