Research project KISPo – AI method for the control of digital gantry robot twins
The global as well as increasingly digital networking of production sites, machines and logistics centers poses new challenges for the manufacturing industry. "Industry 4.0" requires new solution concepts, because more speed, flexibility, autonomy and, last but not least, sustainability are in demand. Medium-sized companies in particular are therefore dependent on the development of innovative technologies in order to keep pace with the changes.
In this context, the LOEWE project "KISPo" aims to develop a control system for gantry robots that is based on artificial intelligence methods for delivering workpieces to and from production machines. This intelligent control system independently adjusts to changes in production and thus always enables optimal operation. This autonomy eliminates the need for time-consuming and costly manual adjustments to the control logic, which also disrupt ongoing operations. It also allows production operations to respond quickly and flexibly to disruptions in production or changing market conditions.
The research partners – consisting of mathematicians from Darmstadt University of Applied Sciences (h_da), SimPlan AG and the automation expert Fibro Läpple Technology – would like to develop such intelligent control systems for a specific type of production plant. The project title "KISPo" stands for "AI method for controlling digital gantry robot twins." In gantry systems, workpieces, such as the cast blank of an electric motor, are transported from one processing station to the next. At each station, a work step or component is added. Transport takes place in carriages equipped with gripper arms that travel from station to station via a rail system. Products typically manufactured with such equipment represent a wide range: from wind turbine gearboxes to components for trains. Larger plants of this type fill entire factory halls.
The technological solution being pursued offers clear competitive advantages: Production becomes more flexible, companies can respond more quickly to changes in the market and supply chains, and thus operate more efficiently and sustainably. The software the consortium is working on will be trained during the development phase using simulation models developed by SimPlan. When the software prototype is then used for the first time, the system is already well trained and can master difficult situations. In practical use, it continues to learn.
The three players from science, the software industry and plant engineering see this joint research as an opportunity to anchor the field of reinforcement learning in the SME sector.
The project consortium includes the following partners: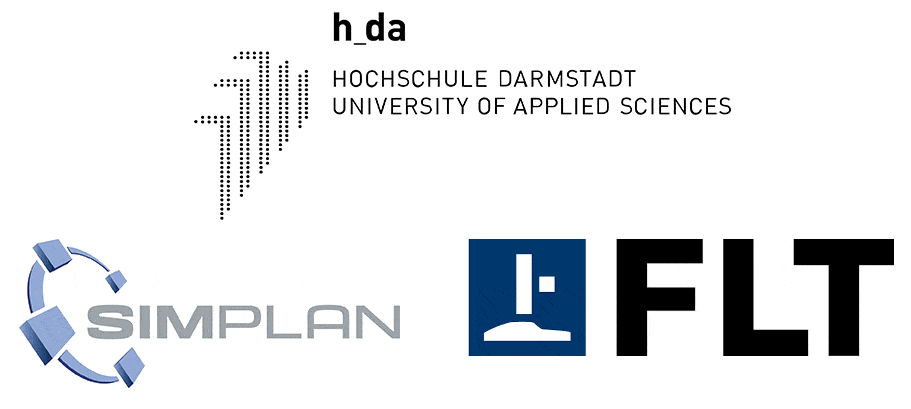 The research project is funded within the LOEWE project "KISPo".
The funding started in January 2022 and will last 2 years.