Simulation of assembly plants / workpiece carriers
This modular kit based on the simulation tool Plant Simulation (Siemens Digital Industries Software) provides you with a tool that enables you to create assembly systems or workpiece carriers within a few hours or days and to test and optimize them by simulation at a simplified level.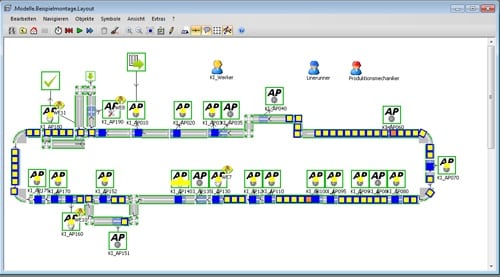 The aim is to use the simulation models created in this way to investigate the dynamic effects (machine malfunctions, NOK rates, etc.) from reality in order to obtain a supplement to static planning and to use the simulation to go on a targeted bottleneck search. This should enable a more precise calculation of new plants in the project planning as well as the finding of rationalization potential in existing plants.
With the help of the simulation, well-founded knowledge about the influence of the
Design of machines (manual or automatic),
number of employees depending on the qualification,
number of WTs, etc.
in relation to dynamic effects can be gained.
The building block box is ideally suited for the Plant Simulation Application License, as no programming knowledge is required. The simplified input interface allows the creation of simulation models via drag and drop even by non-simulation experts. However, it should be noted that in this sense a simplification of the processes is intended. Due to the abstraction and limitations of the building blocks, further detailing may be required in some cases.
We would be happy to present the building block kit for assembly systems to you, just contact us (Contact).