Value Stream Mapping Library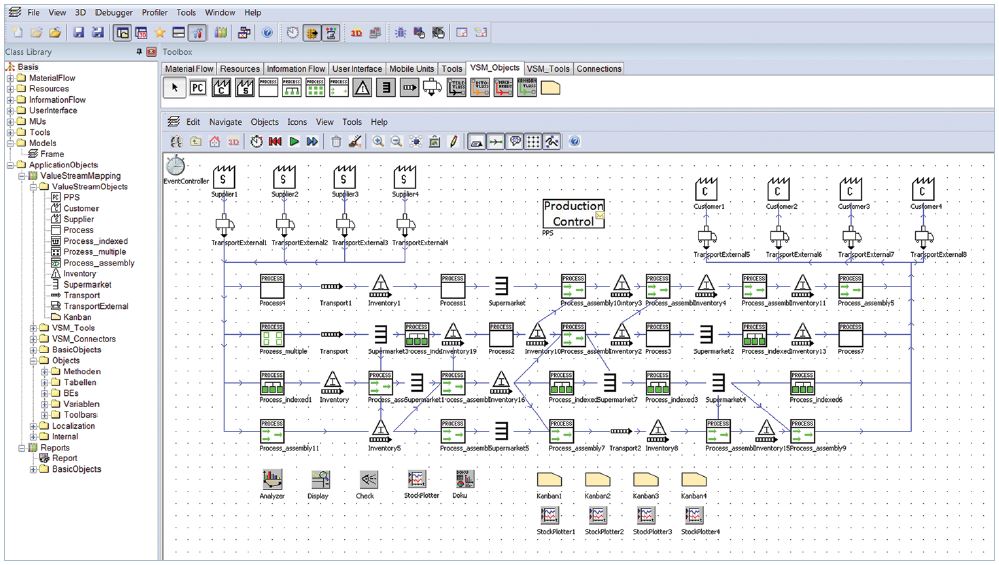 The Value Stream Mapping Library is an optional extension for Tecnomatix Plant Simulation (Siemens Digital Industries Software).
The Tecnomatix Plant Simulation Value Stream Mapping Library supports the user by taking into account the dynamic interrelationships of complex manufacturing processes to increase value added, variability, quality, speed and efficiency for increased production. At the same time, inventory and capital commitment are reduced and on-time delivery is ensured.
What is Value Stream Mapping?
Value Stream Mapping is an established method for examining economic value creation in manufacturing and identifying, reducing and eliminating non-value adding processes and operations.
Value Stream Mapping is a modern method of process optimization based on the methods of Lean Management as described by the well-known Toyota Production System. The aim is to map and better understand the value chain in a simple and fast way in order to optimize it.
The objective is further to optimize the production resources, the arrangement of controls and the batch sizes in order to ensure a steady production flow without buffer stock build-up, while maintaining the quality of incoming orders and deliveries.
Advantages
Increase productivity of existing production facilities by up to 20 percent
Reduction of investments in the planning of a new production by up to 20 percent
Reduction of inventories and lead time by up to 60 percent
Optimization of plant dimensions, including buffer sizes
Reduction of investment risk through early feasibility analysis
Increase resource utilization
Improve line planning and allocation
To make working with the VSM library even easier, we have developed the SimVSM app. You can download it from any store. You can find more details at www.SimVSM.de.