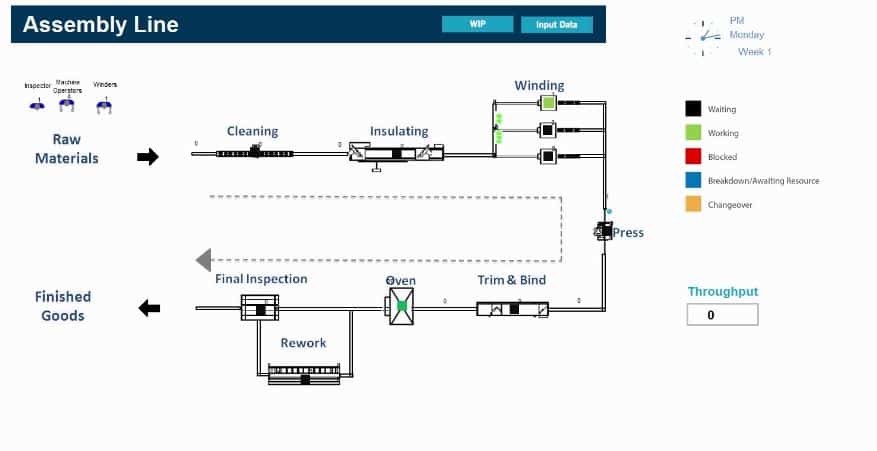 Application/ benefit
With Simul8 a cost-effective and easy to use simulation software is available, which will help answer the most diverse questions from different areas of application in no time at all. This includes e.g. business and production processes, information flows, logistics systems as well as supply chain networks. Thereby Simul8 works across various sectors and thus can be found in the most different branches of industry from the automotive industry through food industry, banks, administration to the public health sector.
Features of the visual simulation package
Simulations are created with five basic elements in Simul8. Thereby the respective symbols are dragged from the menu bar (comparable to established Microsoft products) and provided with the required parameters such as processing time, buffer size etc.
With "Visual Logic" Simul8 is based on an event-driven, structured scripting language, which facilitates programming by non-programmers through equipment with modules and step-by-step instructions. It serves to configure the flow logic of a simulation model more accurately.
Easy handling is ensured by:
"Drag and Drop" technology
Object orientation
Appealing visualisation and animation
Capability and flexibility
Easy finding of optimal solutions
Problem-free integration into existing system worlds
Integration / Interfaces
With Simul8, data exchange with the following products is possible as a standard feature:
Excel, Access
Oracle, Sybase databases
ARIS Tool Set
Microsoft VISIO
iGrafx Flowcharter
AutoMod
Factory CAD
Possible interfaces: Active X – Com interface – DDE – ODBC, SQL, – XML
Manufacturers / supplier
The SimPlan Group is the official distributor of the Simul8 Corporation.