Digital twins for dynamic simulation for planning and control of in-plant transport systems in the context of the digital factory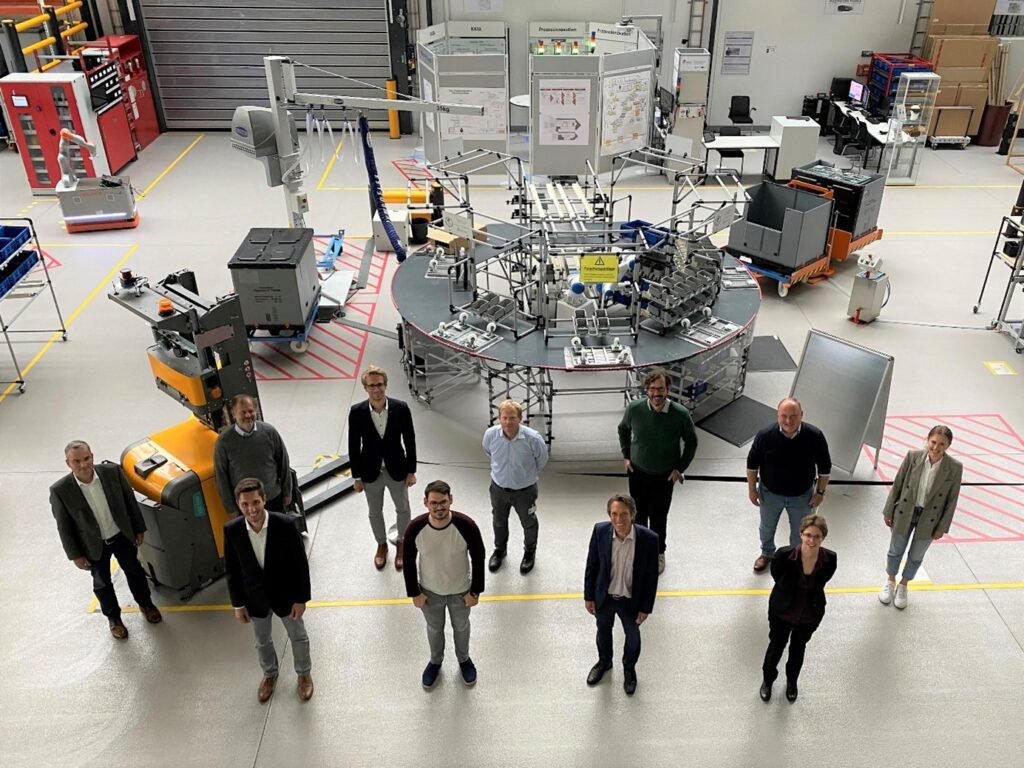 In-plant transport systems are an essential part of intralogistics. Due to different alternative means and routes of transport as well as a multitude of interactions with upstream and downstream processes, such as warehousing, picking and production processes, the planning and control of these systems is characterized by a high degree of complexity and dynamics.
Against this background, the companies Flexus AG, HiPP GmbH & Co. Vertrieb KG, MANN+HUMMEL GmbH, SimPlan AG as well as the University of Applied Sciences Landshut and the East Bavarian Technical University Regensburg have joined forces for a research project. The aim of the research project is the conception and implementation of "Digital Twin(s) for dynamic simulation for the planning and control of in-plant transport systems in the context of the digital factory" (TwInTraSys). The digital twins to be researched should reflect the system behavior of real in-plant transport systems and enable a predictive investigation of different system configurations and an automated evaluation of alternative actions. This can include, for example, the distribution of resources such as industrial trucks and employees to the individual areas of the logistics system. In addition to personnel scheduling, control parameters in a transport control system can also be adjusted or tactical issues, such as the acquisition of new means of transport, can be investigated. The impact of the decision on the entire transport system must be taken into account and an alternative course of action identified that best meets the requirements.
By the time the project is completed in August 2024, the digital twin will have been implemented at the industrial partners HiPP GmbH & Co. Vertrieb KG and MANN+HUMMEL GmbH by the end of the project. In advance, the approaches will be implemented in the learning and sample factory of the Technology Center Production and Logistics Systems (TZ PULS) in Dingolfing as well as in the robotics laboratory at the OTH Regensburg. The research of the Digital Twin is also accompanied by two other project partners: Flexus AG, which contributes its experience in the development of transport control systems; SimPlan AG, which supports the development of the simulation functions.
The TwInTraSys project is funded by the Bavarian Ministry of Economic Affairs, Regional Development and Energy.