SimPlan and Wincor Nixdorf Retail Consulting help retailers optimize checkout planning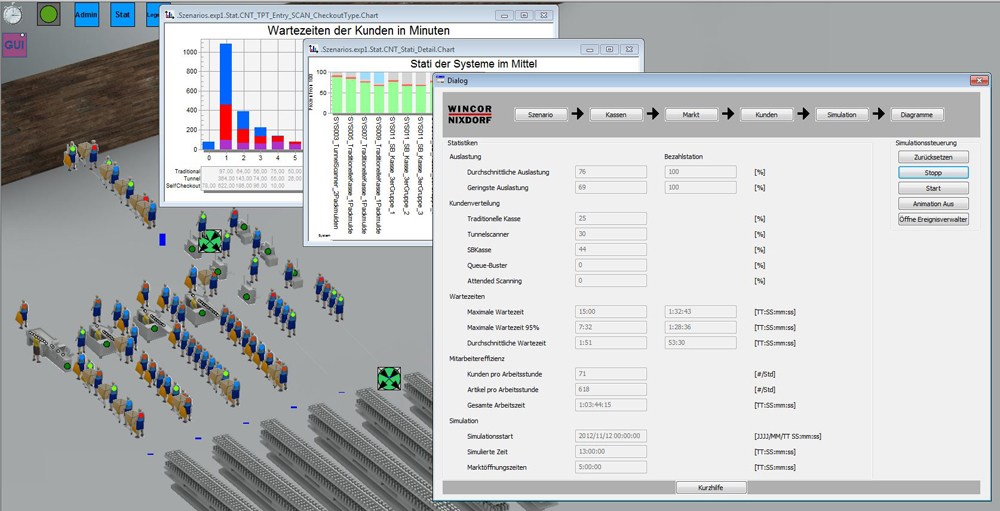 Wincor Nixdorf Retail Consulting and SimPlan AG have developed a checkout simulation tool in a six-month joint project. The collaboration, which was commissioned by a leading German retail company, had the goal to represent the flow of customers in the checkout area of supermarkets as realistically as possible in a simulation program and to thus gain insights into waiting times, checkout capacity utilization and further ratios.
Changing various parameters, for example using different checkout systems or adjusting customer types and preferences, allows making reliable forecasts of customer waiting times. With the help of a variety of experiments, checkout scenarios were developed that optimally support the retailer's corporate strategy with regard to store sizes and locations, and managed to decrease waiting times for customers, in some cases drastically.
The simulation tool offers its users an operative as well as strategic instrument to plan optimal checkout areas. With the wide variety of checkout technologies available, the tool greatly reduces the complexity of the decision which to implement.
The tool makes clear recommendations about the ideal number of checkouts and the most suitable technology to be used. It offers a wide range of traditional checkout-types to choose from with one or up to four pack recesses, as well as self-service checkouts or even fully automatic scanning systems. The risk of expensive and complex pilot studies with unsuitable checkout technologies is greatly reduced. Due to real transaction data, process times and customer types, the simulation tool's user is very close to the real requirements and effortlessly gets meaningful results for store planning.