Promoting greater energy efficiency in industry
State government promotes linking of energy and logistics simulations for planning energy requirements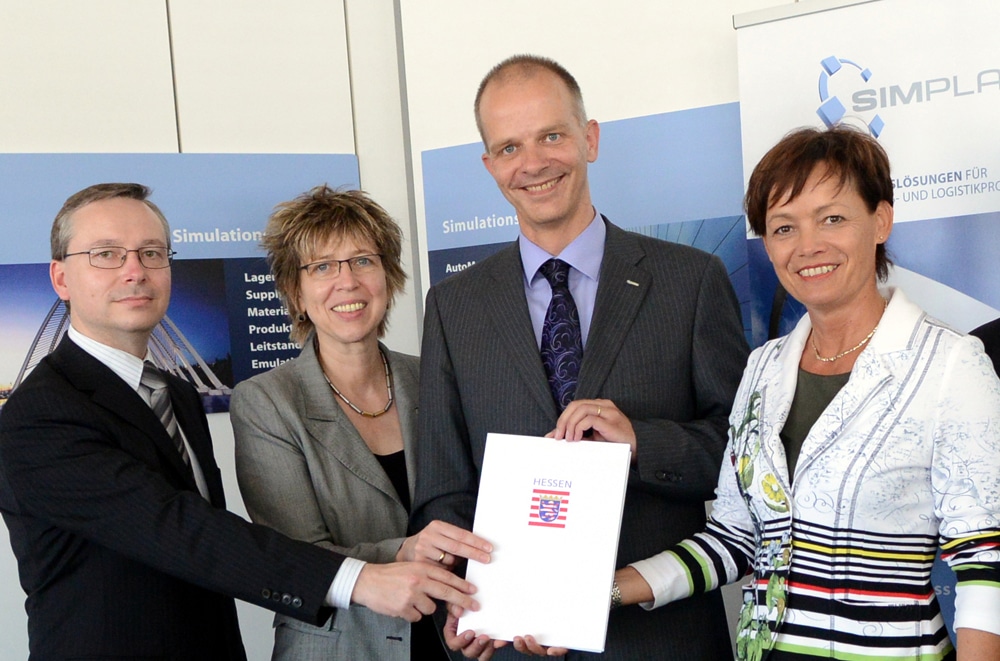 Last week, Hessian Environment Minister Lucia Puttrich presented SimPlan AG in Maintal with a funding decision for 305,000 euros for the project "SimEnergy – Simulation-supported planning and evaluation of energy efficiency for production systems in the automotive industry". "Hessen is full of ideas for the technical implementation of the energy turnaround," said the minister when handing over the notice.As part of the technology offensive, the state government is promoting the linking of energy and logistics simulations so that an energy assessment of production and logistics processes becomes possible. In this way, more concrete statements on the planning of energy requirements are to be achieved. The aim of the link is to leverage energy-saving potential that can only be tapped if energy consumption and production flow are considered together.
"The project is about a basic building block of energy management. It's about recording and modeling energy flows. This is an important step toward greater energy efficiency in industry," Puttrich said. Through the project, a considerable advance in knowledge can be gained with regard to the holistic simulation of production logistics and energy-related factual interrelationships, Puttrich said.
"Without the support of the state of Hesse, we would not be able to realize an innovative research project with partners from industry and academia in this form," said Dr. Sven Spieckermann, CEO of SimPlan AG.
The project consortium also includes Limon GmbH, the University of Kassel; Department of Production Organization and Factory Planning, and Volkswagen AG as important partners, who together with SimPlan AG are contributing around 316,000 euros in third-party funding. The state government is providing a total of four million euros for the energy technology offensive. Of a total of 65 project outlines submitted, eleven particularly innovative research projects, including the SimPlan AG project, were selected by the jury – with the inclusion of expert opinions from renowned energy experts.
Fig. 1: Minister of the Environment Lucia Puttrich (right) presents the award to three of the project participants: (from right to left) SimPlan board member Dr. Sven Spieckermann, Professor Sigrid Wenzel (University of Kassel), Carsten Pöge (Volkswagen AG). Photo: Renate Hoyer