SimQueue determines buffer sizes in seconds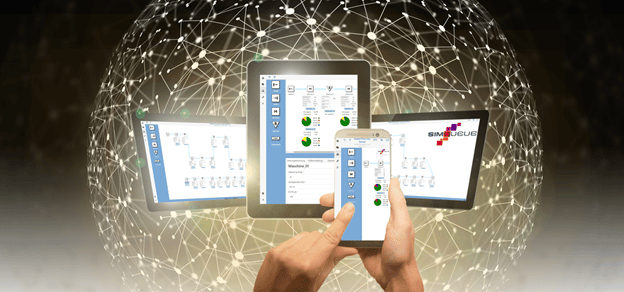 With SimQueue, SimPlan presents a new app in the Apple App Store that can be used on mobile devices to determine the optimal buffer sizes between stations in a chained production line within seconds.
The production line can be easily modeled graphically. After entering the time and availability parameters for the processing stations and the target throughput for the line, the app suggests the required sizes of the buffers between the stations. The user can also define upper and lower limits for the buffers to account for any restrictions, such as lack of space.
At the push of a button, the app calculates the throughput and efficiency for the given parameters and buffer sizes. Of course, the buffer sizes can be adjusted to analyze the impact on both parameters.
This app, which is based on operations research algorithms, maps linear concatenations in the current version. SimPlan developers are already working on expanding the functionality to also create and calculate diverging and converging structures. In addition, a coupling with a simulator is being developed, which can be used to evaluate the result of the calculation in a dynamic simulation model. In a short time, the simulation provides results from simulation runs in which a variety of failure scenarios can be run through.
The app can be downloaded now as a free version from the Apple App Store. While the free version is limited in the number of projects, alternatives and machines, the Expert version offers unlimited use. The Premium subscription unlocks additional helpful features such as exporting and importing projects or performing and storing measurement series with integrated stopwatch functionality.
Status: 05.04.2022
Available at: https://apps.apple.com/de/app/simqueue/id1472567543 currently for IPads only
SimPlan AG
SimPlan AG was founded in 1992 and is today the leading service provider for the simulation of operational processes in production and logistics. Customers from all industries rely on the services of the "simulators", including companies from the automotive, retail and mechanical engineering sectors, for example. From independent consulting on the selection of the right simulation software and IT integration to the professional implementation of simulation projects – SimPlan offers users a full-service package. State-of-the-art simulation technologies are used, above all augmented and virtual reality solutions. The company is headquartered in Hanau. Today, the group includes the subsidiaries SimPlan Integrations and SimPlan Systems as well as branches in Braunschweig, Bremen, Dresden, Holzgerlingen, Munich and Regensburg. The simulation service provider covers international markets with a branch office in Austria and another in China. In total, SimPlan AG employs 120 people worldwide.
Contact Simplan:
Dirk Wortmann – SimPlan AG
Sophie-Scholl-Platz 6 – D-63452 Hanau, Germany
Phone: +49 (0)6181-402 96 0 – Fax: +49 (0)6181 402 96 19
E-mail: dirk.wortmann@SimPlan.de – Internet: www.SimPlan.de