Research project AgilPlanBZ: Agile factory planning in a highly dynamic market and development environment Fuel cell production
Factories, and thus factory planning, have to react more and more quickly to changes resulting from technological advances or a changed market environment. The resulting requirements for fast, yet reliable and agile planning processes are becoming even more stringent in an innovative and research-intensive environment such as the manufacture of fuel cells for vehicles.
This is where the AgilPlanBZ research project comes in, which aims to develop suitable methods and tools to support the planning of fuel cell production. A manufacturer of fuel cells (FCP Fuell Cell Powertrain GmbH from Chemnitz) has joined forces with a company for factory planning and simulation (Hörmann Rawema Engineering & Consulting GmbH, Chemnitz), a provider of simulation services and software (SimPlan AG, Dresden and Hanau), the Technical University of Chemnitz and the Fraunhofer Institute for Machine Tools and Forming Technology.
As a result of the project, concepts, methods and digital models for the short-cycle, largely parameterized and participatory planning of production systems and processes with application relevance to fuel cell manufacturing are being developed. SimPlan plans to adopt software solutions and models into its own portfolio after the project.
The project consortium includes the following partners:
Hörmann-Rawema
Fuel Cell Powertrain
Fraunhofer IWU
SimPlan AG
TU Chemnitz, URC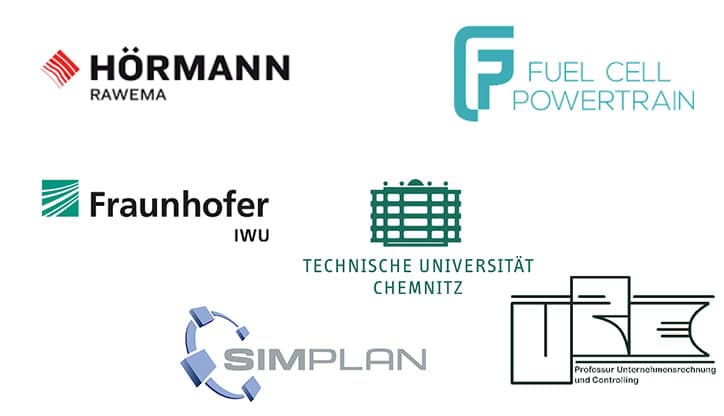 The AgilPLanBZ research project is funded by the Sächsische Aufbaubank, the European Union and the Saxony Economic Development Corporation. The funding started in September 2019 and will last 2 years.