MobiSim – research project for the creation of a mobile value stream simulator for production
The aim of the research project MobiSim is the development of a mobile value stream simulator, e.g. a software application for use on mobile terminals in the production environment of production companies by production-oriented employees. With the desired project results, it is possible to simulate planned changes of the material flow directly onsite in order to quantify the effects before the actual implementation.
Furthermore, the planned demonstrator supports the development and evaluation of design alternatives of the existing material flow. The solution approach pursued within the framework of the project is a combination of the so-called value-stream method with the novel technique of mobile material flow simulation.
The aspect of mobility supports transparency and acceptance of change, ensures the involvement of employees, and allows an advance quantification of changes without media breaks directly onsite. In this project, SimPlan is responsible for the technical implementation of the demonstrator and holds the consortium leadership. Other partners include PTW, TU Darmstadt and Datron AG as well as Bosch Rexroth (as an associated partner).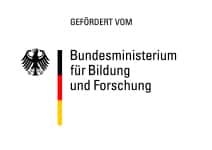 This project receives funds from the Federal Ministry of Education and Research. The funding (FKZ: 01IS15025A-C) is part of the project KMU-innovativ, section "Softwaresysteme und Wissenstechnologien".