Research project SEAMLESS: Simulation-based, assistance system-based engineering and maintenance services for Lean Aftersales Services
Internet-based services shape the value creation of tomorrow
Products, processes and services are increasingly being linked together to form intelligent services (smart services) and "refined" accordingly. The Internet as a networking infrastructure is of central importance in this context: Internet-based services open up great growth potential for complex products, production processes and plants for both IT providers and IT users.
For example, Internet-based services lead to operational optimization of plants through new knowledge platforms and to the virtualization of ICT infrastructures. The aim of the BMBF funding priority is to develop and test innovative services and business models that result from the consistent networking of the entire value-added chain. The focus is on flexible and scalable assistance systems based on augmented and virtual reality. This enables German companies to generate new smart services – together with their employees and users – in order to secure a sustainable competitive advantage.
Holistically networked: The SME service platform for production plants
So far, production facilities in SMEs are hardly or not at all networked. There is a permanent data acquisition at the individual machines/plants, but no evaluation or holistic view of the entire production. The potential now lies in linking and evaluating this data and thus improving operating processes. In the course of the digital transformation, production facilities are increasingly merging with information technologies. On the basis of these networked, interacting hardware and software systems, it will be possible in future to use sensors and actuators to increasingly transport and further process status and impact data and interactions directly into higher-level (business) processes.
The aim of the SEAMLESS research project is the development and seamless provision of SME-compatible, Internet-based after-sales services. Aftersales services refers to the provision of consulting, training and spare parts services following a sale.
The platform to be developed enables companies from different business areas to cooperate, to optimize internal processes and to offer their customers novel services, which were previously not possible without extensive virtual analysis. The holistic view of networked production plants requires the use of new forms of synergetic simulation from technical and operational IT systems. Accordingly, the project offers the platform "Simulation enhanced Assessment as a Service (SeAaaS)", which allows users to use different simulators synergistically with each other and to use them for testing and executing intelligent services.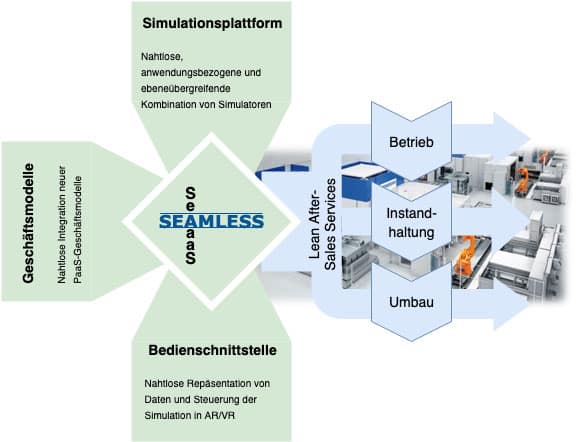 Image 1: Fields of activity and components of the SEAMLESS platform (Source: SimPlan AG)
Value Stream Mapping goes Online
With the help of our value stream tool SimVSM and the extensions from the research project SEAMLESS, funded by the German Federal Ministry of Education and Research, we show in this video how easily a value stream can be transformed into an online value stream in the future.
Using the example of a compact value stream model, the handling of the extended functionality of SimVSM is briefly presented.
In particular, a cloud-based toolbox will be developed, which allows the coupling of different input data of concrete data (collected from ongoing production operations) and simulation tools of a simulation ecosystem. It is complemented by a visualization concept based on virtual and augmented reality, which makes the interaction between man and machine HOW more user-friendly. Furthermore, the topic of data sovereignty and data security is explored in the context of internet-based and simulation-supported intelligent services in the cloud.
The three business areas of operation, maintenance and reconstruction promise the greatest success so far for simulation-supported, assistance system-based services. Especially for small and medium-sized enterprises in Germany, the toolbox offers the possibility to analyse and improve processes in a low-threshold and cost-efficient way. An extension of the results to other industries or fields of application is conceivable.
The project consortium includes the following partners:
SimPlan AG (Consortium leader)
Innolite GmbH
Dieffenbacher GmbH
FZI Forschungszentrum Informatik
WZL RWTH Aachen
Technische Universität Chemnitz
EXAPT Systemtechnik GmbH
EKS InTec GmbH
SEEBURGER AG
Actimage GmbH
The SEAMLESS research project is funded by the Federal Ministry of Education and Research. The funding started in February 2020 and will last 3 years.