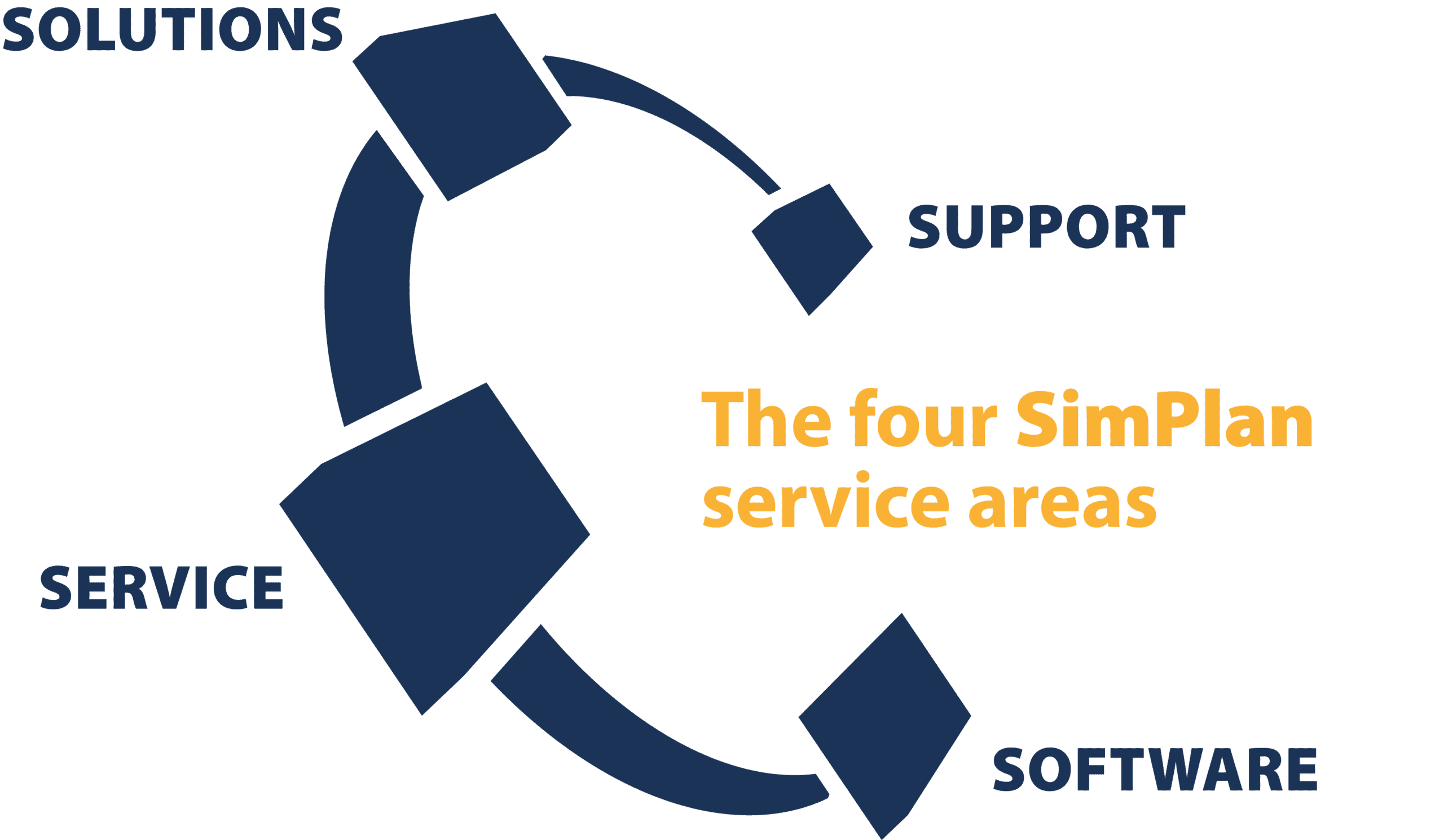 Simulation services provider with exemplary function: SimPlan
With the help of simulations that reproduce a value chain or a production line, the strengths and weaknesses of a system can be identified in detail. As a simulation service provider, we undertake these and other activities for our clients. We advise in advance when a new system or a sub-component is to be planned and tested for its suitability or usefulness. We help our clients to define the objectives of the simulation and recommend software suitable for this purpose. We implement, design, run the simulation ourselves, provide or train personnel – whatever best suits your company's needs.
Your plus from SimPlan: Simulation, software and user individually or as a bundle.
As Germany's leading simulation service provider, we at SimPlan have placed our focus on carrying out material flow simulations. Furthermore we plan and realize
flow simulations,
logistics simulations,
supply chain simulations,
hospital simulations,
people flow simulations.
For all types of simulations, we have the appropriate software available for purchase or rental. In addition, on request, we provide an experienced team that understands the specific needs within your industry and develops solution strategies that meet your objectives and your project.
Benefits of our simulations for your company
However, the simulation alone would be of little use if it were not followed by a phase of evaluation, validation and restructuring. Unlike the weather forecast, you ultimately want to know not only what tomorrow will bring, but also how you can actively influence the atmosphere and weather conditions and optimize all the processes involved. Restructuring can therefore relate to objects and production routes. But it can also take into account strategies, control elements or sales and management decisions.
Three unbeatable advantages of your simulation service provider
Simulation has the advantage that the calculated models provide you with a serious basis for previous and planned business models. Our customers use it to weigh up the costs and benefits of planned projects, to illustrate to investors or clients why investing in or awarding a contract to their company is particularly worthwhile.
Finally, advantage number 3 relates to important aspects of the currently much-discussed Industry 4.0, because simulation models can also be used to find out which networks with other companies and service providers already exist, where further networking makes sense, how you can improve your services through cooperation with other service providers or subcontractors, and the like.
Thus, the effect and significance of a simulation goes far beyond capturing an actual state and defining a target state.
Pioneer in quality and academic partner with proven practice: Simulation services provider SimPlan
Plan, simulate, evaluate and get things done – we at SimPlan have been at our customers' side for a good quarter of a century when feasibility studies and virtual tests are needed to help optimize the overall performance of a system. Whether it's conveyor technology, production facilities, distribution channels or warehouse technology – we bring the experience from all industries and sectors.
As a Germany-wide pioneer in certification by the ISO 9001 standard in the field of material flow simulation. As an Academic Partner of Siemens PLM, as a reliable partner in research and education. But above all as a proven simulation service provider and coach for small, medium and large companies. Gladly also on your behalf!
Do you have questions about our simulation services?