Process simulation in the automotive industry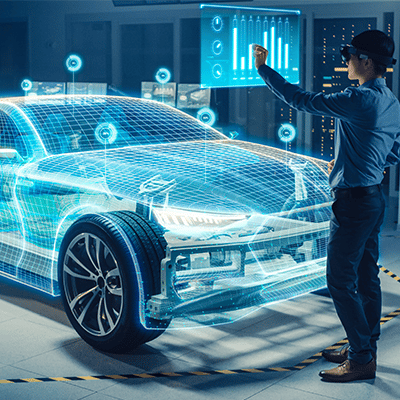 SimPlan has been developing and operating the Automotive Building Block Library for many years together with the Workflow Simulation Working Group of the German Association of the Automotive Industry (VDA). Members include Audi, BMW, Daimler, VW and ZF Friedrichshafen. This working group was developed on the basis of the Plant Simulation software, since all members of the VDA use this tool as a standard simulation solution. The challenge for us was to create a building block library that is continuously maintained and developed over years using a standardized methodology.
Automotive companies and their suppliers use the Automotive Toolbox to create simulation studies in the planning process and to support ongoing operations. The modular library structure has made it possible to keep the scope of the kit lean and clear. At the same time, processes of different trades such as body shop, paint shop, assembly, logistics and engine construction (powertrain, powertrain assembly) can be mapped.
Optional modules for modeling consumption (e.g. of compressed air) extend the trade modules as required and allow you to carry out studies to minimize electricity consumption, for example. In addition, an automated connection to some data sources of the Digital Factory enables the synchronization of the input data required for the simulation. Until now, these had to be entered manually. Particularly worth mentioning here are the interfaces for data transfer from the standard CAD system Microstation/TriCAD, the logistics planning tool Malaga or the VDB (availability database, proprietary development of the VDA).
Today, the building block box is established as the standard for the creation of simulation models in the automotive engineering environment. The uniform use of the building block kit enables automotive companies to carry out large projects divided into sub-projects, which are carried out by different companies. A combination of the partial models to a complete model is possible at any time by using the building block standard.
Contact us if you would like to know more details about this project.