Simple simulation of interlinked plant systems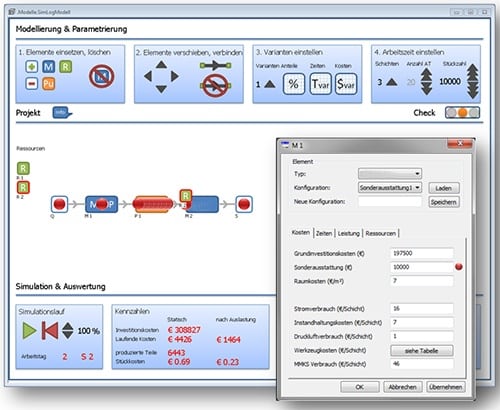 From the point of view of "Lean Production", machine tool manufacturers today not only have to develop economical machine concepts, but also integrate them as optimally as possible into the material flow. Within the research project SimLog, SimPlan and several partners (AluProf, Datron, TU Darmstadt) developed a simulation-based approach to optimize manufacturing systems for customer-specific material flows.
The PlantEasy kit – based on Plant Simulation – is designed to help customers of machine tools to simulate not only the actual machine but also the incoming and outgoing logistics systems (e.g. warehouse, buffer, sorting or packaging technology) on the basis of defined material flow criteria. This significantly reduces the complexity of decisions regarding possible solution combinations for the responsible planners.
To check the quality of the selected concepts and to further detail them, the PlantEasy building block library is used. The planner uses this library to map the planned concept in a simulation model and to test functionality and robustness. The simulation also takes into account monetary aspects such as investment costs, tooling costs, power consumption, and others. The simulation application is designed in such a way that the planner can use it even without prior knowledge in the field of simulation. This is especially interesting for the application in SMEs.
We will be happy to provide you with a sample model of the PlantEasy building block kit as a zip file on request. If you are interested in further information about this building block kit, please contact us.
More information and downloads