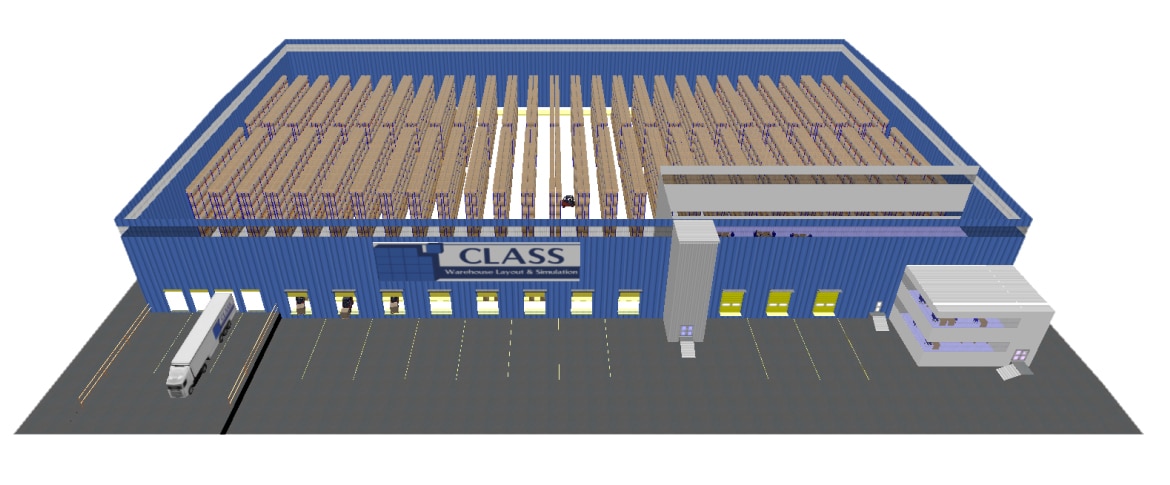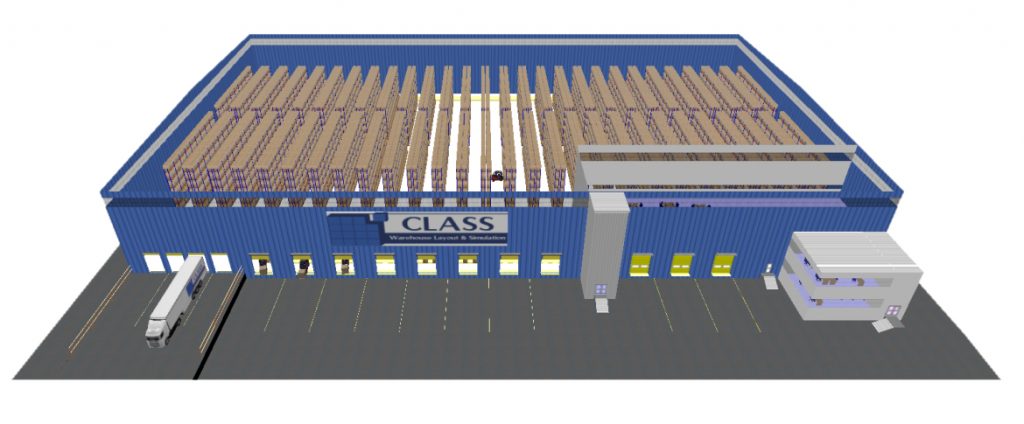 CLASS – planning and simulating manual warehouses
Application / benefits
CLASS Warehouse Layout and Simulation is a software created for planning and simulating manual warehouses. The focus on this application area enables even simulation laypersons to use the programme after comparatively little training. The processes typical in manual warehouses are pre-defined and only have to be parameterized and adapted to the respective system.
Usage in warehouse planning
The warehouse planning environment in CLASS is suitable for 3D layout planning of warehouse locations. Based on the available land plot, buildings and storage areas are developed. CLASS' basic modules for building shells, truck docks, floors, storage systems, etc serve as the foundation for modeling.
Available planning results include various key indicators (number of storage spaces, space utilization, etc), several views and a 3D model. The planning is rounded off with the creation of dynamic videos of the warehouse site.
Usage in simulation
CLASS' simulation environment allows the analysis and optimization of storage processes. Typical questions that CLASS simulation models can answer, are:
Is the number of truck docks for delivering and removing goods sufficient?
Will the intended warehouse performance be reached (storage, retrieval, commissioning)?
How many industrial trucks and workers will be needed?
Which shift models are suitable?
Is the intended warehouse layout suitable for the business?'
What is the breakeven performance of the system?
Are the industrial trucks obstructing each other?
Where are the system's bottlenecks?
Which commissioning and replenishment strategies are suitable?
Can truck tours be allocated on time?
Manufacturer / supplier
The developer of CLASS, CIRRUS Logistics, is situated near London and has been active in logistics simulation since 1985. CLASS itself has been on the market for 15 years and is being continually improved. SimPlan AG is sales partner for the german-speaking region and offers the software as well as consulting, training and support from a single source.