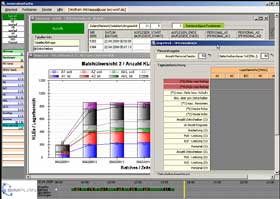 Optimising the logistics control station
Besides high plant output, the main aim of efficient plant scheduling is an even capacity utilisation of picking areas and packing departments. Furthermore, when developing a high-capacity order-picking strategy the focus is on short throughput times and keeping consignment parts together whilst maintaining high flexibility.
Using the consignment date as the fundamental criterion for prioritising picking orders generally does not yield consistent plant capacity utilisation. Optimal utilisation of plant and personnel can only be achieved if all plant areas involved with an order are taken into account when determining the order sequence.
The Dispo-Tool in the plant control station incorporates the areas from order commencement through picking areas, consolidation to packing and consignment whilst at the same time keeping orders together and adhering to specific departure times.
By generating a simulation model and subsequently carrying out experiments with existing WMS data, the parameters for the configuration of the dispo tool can be ascertained and the optimisation potential determined. As a side effect weak points and bottlenecks are uncovered, which otherwise only come to light in the course of long-winded and costly experiments.
Features of the Dispo-Tool
Transfer the picking orders (trays) to the dispo tool after they have been cleared by the host and allocated in the existing WMS
Suggest personnel allocation based on the known orders
Calculate a favourable tray starting sequence and
Send it back to the WMS from the dispo tool.
Functions of the Dispo-Tool
Presentation and analysis of the job load to be scheduled
Personnel scheduling (automatic and manual)
Evaluation of bottleneck areas
Development of a daily capacity profile
Order scheduling / scheduling run
Division of consignments into batches
User interfaces for execution of SQL instructions
Simulation link
Projection of capacity utilisation, operating time, throughput time, buffer capacity levels etc.
Control station response, rejection of the old scheduling and rescheduling subject to parameter Variation
Aims and benefits
Even plant and personnel capacity utilisation
Shorter consignment throughput times as the consignment parts are kept together
No overrun of consolidation and packing areas
Flexibility remains guaranteed – special actions possible at any time
More information and downloads