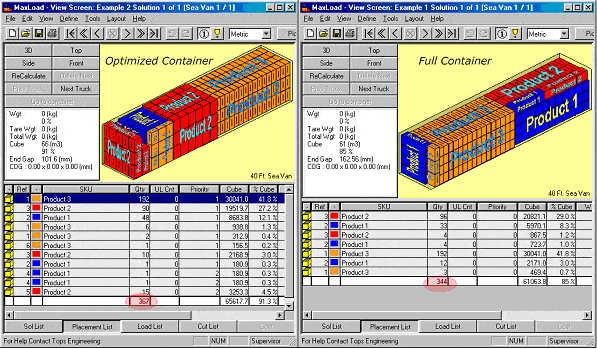 Application/benefit
The aim of the programs MaxLoad Pro and TOPS Pro is the ascertainment of optimal solutions with regard to packaging, palletising and loading. Packaging, handling, transport and storage costs are significantly reduced by optimising room utilisation.
With Maxload Pro a large number of problems concerning the area of freight planning and optimisation can be solved. Among these e.g.
Calculation of the number of required containers or HGVs for a given manifest
Concurrently ascertainment of optimal container or vehicle sizes
Ascertainment of the ideal loading pattern in order to be able to transport as many goods as possible.
TOPS Pro supports packaging specialists at every stage of their work:
Ascertainment of optimum primary, secondary and transport packaging
Selection of the most space-efficient packaging geometries and sizes
Calculation of the best layout of the packaging
Calculation of suitable palletising patterns
Loading optimisation of HGVs and Containers
Here the aim of TOPS Pro is the identification of solutions at optimal cost with regard to packaging, handling, transport and storage costs. This is often connected with the ascertainment of packaging and palletising patterns, facilitating stacking of the maximum number of products (cube efficiency) for any given area and space.
Thereby the software always offers the option to intervene manually in order to include human intelligence and experience as an additional factor. Here, handling can be learnt extremely intuitively and quickly.
Interfaces
Maxload Pro is available both as standalone and as network version. In addition it can be integrated into ERP, WMS, AS400, EDI, Oracle as well as supply chain systems or connected to these systems for data import purposes. On request TOPS Pro can also be integrated into external systems (ERP etc.) or connected to these for data transfer purposes.
Manufacturers / supply
The SimPlan AG is a distributor of MaxLoad Pro and Tops Pro.  Support and consulting services are included in the service offer.