Advanced production planning and scheduling to better coordinate your manufacturing processes
Application and benefits
Opcenter APS (formerly Preactor APS) supports planners in the rough and detailed planning of production processes. In times of increasing variant diversity and ever shorter lead times, combined with high complexity in the manufacturing process, planning that is often still carried out manually using Excel and the like quickly reaches its limits. Opcenter helps you to remain competitive in the global market by avoiding unnecessary set-up processes and reducing stock levels.
Opcenter APS' Advanced Planning and Scheduling software solutions, developed specifically for these requirements, use advanced algorithms that balance demand and capacity to generate feasible production plans.
The Opcenter APS product family from the Siemens Digital Industries software portfolio consists of the Opcenter AP (Adcanced Planning) and Opcenter AS (Advanced Scheduling) components.
Rough planning with Opcenter AP
Opcenter AP is a strategic decision tool that supports you in long and medium-term planning. In contrast to classic Material Requirements Planning (MRP), Opcenter AP enables rough planning taking finite capacities into account. Based on requirements and forecasts, plans can be created in time slices of days, weeks or months.
Thus, for example, seasonal stocks can be taken into account. The proposed material purchase requisitions can also be exported to an ERP or other system (e.g. Excel).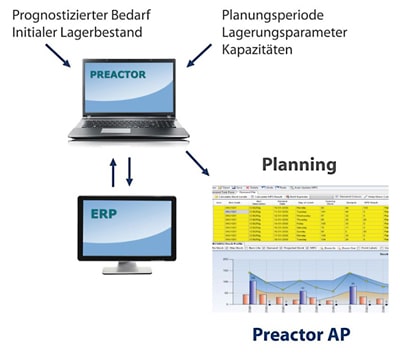 Detailed planning with Opcenter AS
Opcenter AS is a decision tool for detailed production planning, capacity planning and GMPS (Graphical Master Production Schedule) in multi-stage production processes. It takes into account customer requirements/forecasts and determines the optimized sequence of production orders on the individual resources based on stored routings by forward/backward planning.
The interactive detailed planning board allows extensive manual intervention options and provides the planner with feedback on the effects of manual changes. At the same time, the visualization of resource utilization serves as a further aid to decision-making.
More information about Opcenter can also be found at www.preactor-aps.de.