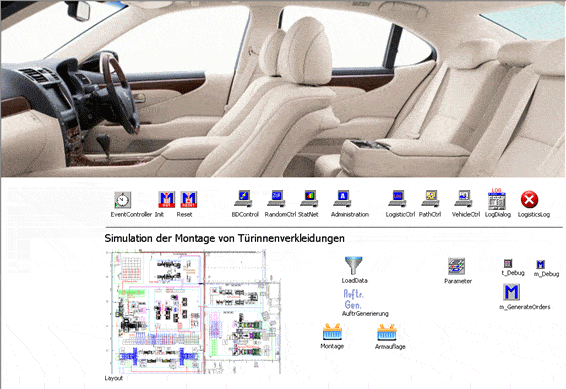 Assembly of interior door panels
In the course of new plant planning for a supplier of interior door trim kits for a German OEM, a simulation model was created to test various control scenarios in the planning phase.
Shipment takes place in the sequence specified by the manufacturer in specially adjusted racks according to JIS restrictions (just-in-sequence). This, in turn, determines the sequence of the final assembly line, which in turn is supplied from areas such as brushing, laminating, pressing, etc. Since the number of variants is high, but the specifications for sensible batch sizes make buffering necessary, a well-coordinated system of pre-planning and internal logistics is required.
With the help of the model, it was thus possible to work out appropriate scheduling strategies for the areas and set-up strategies for the plants. In the same way, rules could be defined for the intralogistical processes and an optimal routing for the logisticians could be found in order to supply the assembly lines at 1%.
The model was prepared to such an extent that the customer can independently enter new performance parameters and select different control strategies.
Evaluation of planned plant for interior door panels and design of necessary resources in the area of in-plant logistics and production.
Securing the planning
Analyzing and optimizing the scheduling strategies of orders and their effects.
GUI for user-defined parameterization of the model
Detailed mapping of intralogistic processes
Switchable between different control and order loading strategies
Co-design and validation of the concept
Evaluation of setup and order loading strategies
Optimization of control rules and routing