b+m Surface Systems relies on the Digital Factory
As a manufacturer of painting systems and automatic application processes, b+m surface systems GmbH offers customized solutions for almost every painting task. Most of the customers of the medium-sized, internationally active company come from the automotive and supplier industry, but manufacturers of commercial vehicles, agricultural machinery and rail vehicles also paint with systems from b+m.
Due to increasing complexity in the processes of the customers as well as decreasing project lead times, b+m decided to achieve significant increases in the planning quality and reduction of follow-up costs by investing in the area of the digital factory. In cooperation with SimPlan, the simulation program Plant Simulation was therefore evaluated and introduced. The aim is to use the discrete, event-oriented simulation step by step along the entire value chain, from the initial planning steps through detailed planning and commissioning to advising the end customer on the operation of the plant.
Material flow simulation in rough planning and sales  
At the start of the collaboration, the material flow simulation was intended to support the early planning phases of a paint shop for passenger car components. The current planning status was modeled so that weak points could be identified at an early stage and the layout adapted accordingly. Since the Plant Simulation software also offers a wide range of options for animating the material flow, b+m now had an effective means of communication with the customer to present these solution variants and discuss them with the customer.
Project-accompanying use of the simulation model
In the further course of the project, the model of the rough planning concept was refined step by step by b+m and SimPlan and various "stress tests" were carried out in each case on the basis of the current planning status. The simulation model was detailed to such an extent that control variants were tested, taking into account the acceleration and deceleration behavior of the conveyor technology elements. The aim was to obtain an accurate picture of the later reality, which includes fluctuations as well as disturbances. The knowledge gained was used as a basis for the implementation of the real control logic in the simulation model and to support the commissioning of the plant.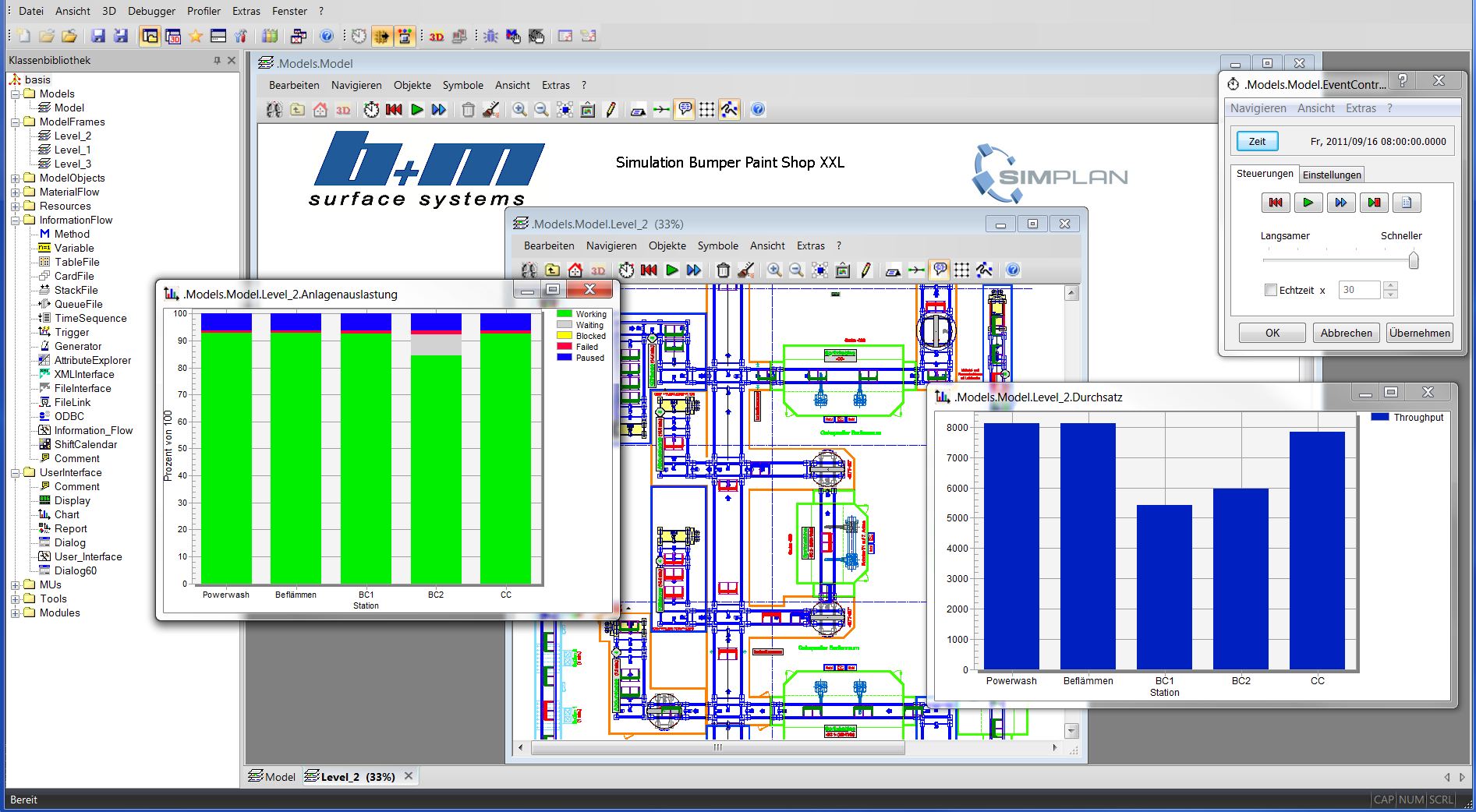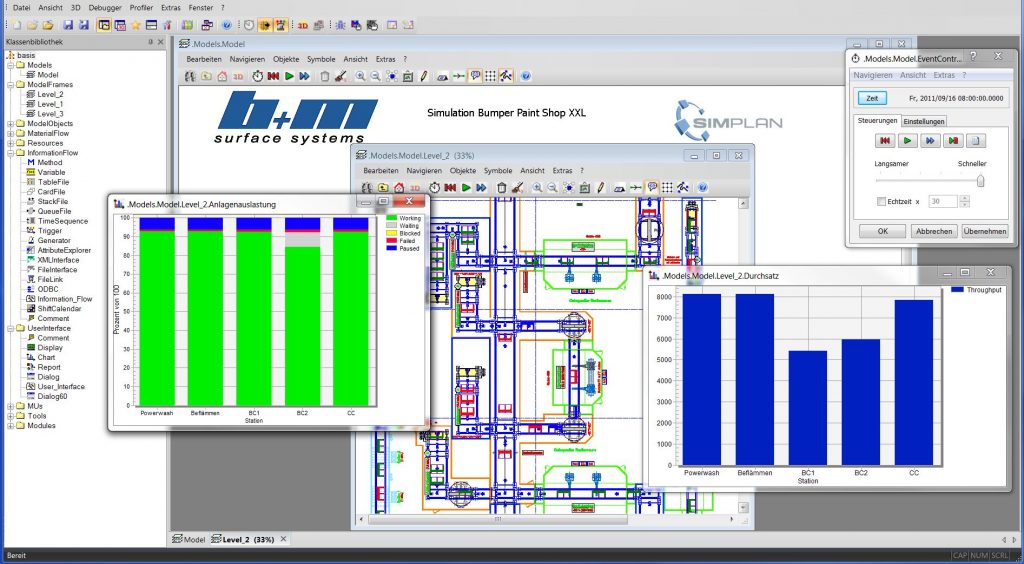 Vision digital factory
"With Plant Simulation, we can simulate customer projects as early as the project planning phase and thus ensure higher planning quality," says Sebastian Merz, managing partner of b+m surface systems GmbH, adding, "SimPlan was there to support us in word and deed right from the start. During the introduction of Plant Simulation, our employees were trained during the project on the basis of existing orders and were thus able to familiarize themselves quickly and practically with the new program."